It has recently come to our attention that a third party is using the name of iWon to perpetrate a scam on the public. We have received reports from several individuals that they have been the recipients of correspondence, including our name and logos that has not been sent by us. The correspondence includes a letter informing the recipient that he or she has won an iWon Monthly Bonus Prize in the amount of $15,500.00 and includes a check in the amount of $1,000.00. The correspondence has been received via postal mail. Samples of the letter and check are below.

The party posing as iWon.com has also been asking users to send money to an address in Sudbury, Ontario, Canada. If you have received such correspondence, please know that it is a scam and it is not from iWon. We encourage you to contact us as well as your local authorities if you are the recipient of such correspondence. In addition, please do not send any money to anyone in connection with claiming a prize from iWon, as we will never ask a winner of one of our prizes to send us money in order to claim a prize.

For a list of what we will not do in awarding prizes, please click here.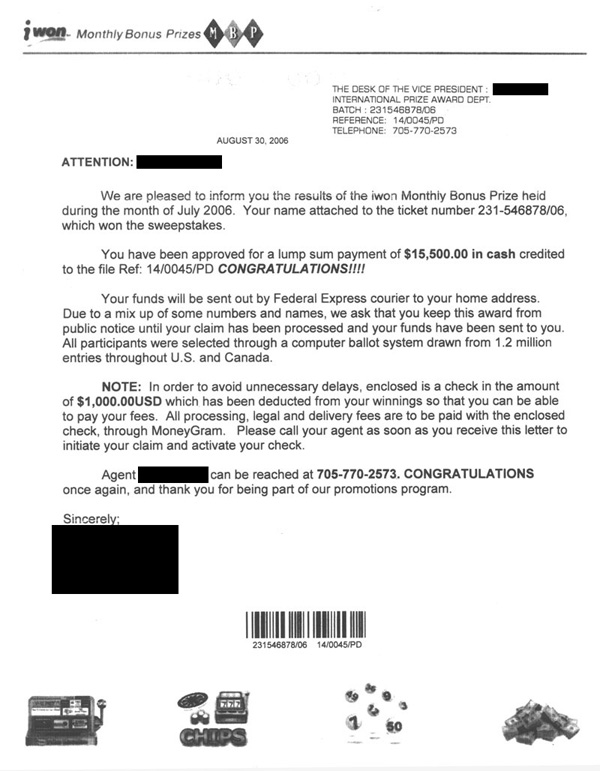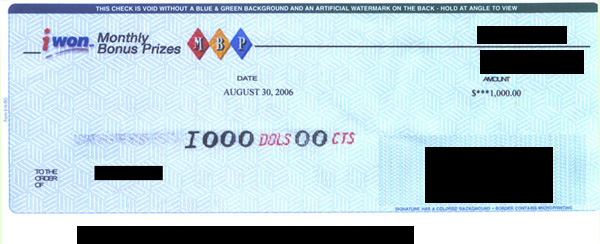 Return to about iWon